In Memory
Mary Baker (DeMars)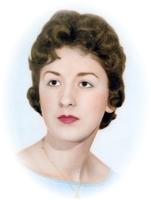 Mary Baker Demars
November 22, 1943 - May 12, 2021
Mary F. DeMars, 77, of Tiffin, died at 10:28 a.m., Wednesday, May 12, 2021, at Mercy Health - St. Rita's Medical Center, Lima.
Mary was born November 22, 1943, in Tiffin, to Stanley and Nina L. (Feasel) Baker. She married Terrance James Patrick DeMars September 7, 1963, in Hagerstown, Maryland and he preceded her in death on July 23, 2016.
Survivors include a son, Ted J. (Judith) DeMars of Bloomville; two daughters, Terri Jude Theis of Tiffin, and Toni Marie King of South Dakota; six grandchildren, two great grandchildren; a brother, James (Wendy) Baker of Tiffin; and two sisters, Diana Murray of Arkansas, and Carol (Tom) Traunero of Tiffin.
She was preceded in death by a brother, John Baker, and a sister, Margy Borer.
Mary graduated from Columbian High School and then served in the US Army. She worked at Tiffin Developmental Center and had owned Mary's Restaurant on Market St. in Tiffin.
Visitation will be Monday, May 17, 2021, from 11 am until time of the service at 1 pm, at Traunero Funeral Home and Crematory, 214 S. Monroe St., Tiffin, Ohio 44883 (419)447-3113. Rev. Marilyn Coney will officiate, with burial following in Fairmont Cemetery.
Memorials may be made to the family.
To send condolences to the family go to www.traunerofuneralhome.com
To send flowers to the family or plant a tree in memory of Mary F. (Baker) DeMars, please visit our floral store.