In Memory
James Beisner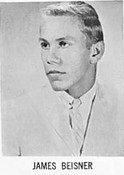 Obituary
Dr. James D. Beisner, 64, of 2865 N. SR 101, Tiffin, died Friday, December 5, 2008 in the comfort of his own home.
Dr. Beisner was born January 27, 1944 in Tiffin, to the late Henry D. and Alma Michaels) Beisner. He maried Libby (Buskirk) at Pleasant Ridge United Methodist Church, August 24, 1968, and she survives.
Survivors include daughter, Sarah (Trevor) Dundore of Sycamore; a son, Dan (Aimee) Beisner of Tiffin; and three grandchildren, Alex and Beth Dundore and Henry Beisner. He also is survived by a brother, Dr. Henry M. (Judy) Beisner of Maryland; a sister, Christine (Ulrich) Schliemann of Florida; a sister-in-law, Pat Beisner of Tiffin and many nieces and nephews.
Besides his parents, he was preceded in death by a brother, Dr. John D. Beisner.
Dr. Beisner worked as an optometrist in Tiffin for 30 years. He was a member of Pleasant Ridge United Methodist Church and enjoyed Ohio State Football, the outdoors, running, reading, traveling, being an optometrist, and his grandchildren's sporting events, but most of all he just loved being with his family.
Dr. Beisner was a 1962 graduate of Columbian High School and a 1969 graduate from the Ohio State University, where he played on the varsity lacrosse team.