In Memory
Wayne Coffman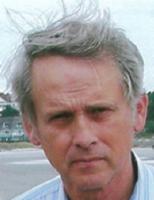 Wayne A. Coffman
September 23, 1944 - July 25, 2020
Wayne Allen Coffman, 75, of Tiffin, passed away Saturday, July 25, 2020 following a more than 20 year battle with Parkinson's disease.
He was born on September 23, 1944 to Karl D. "Mike" and Bessie Helen (Williams) Coffman, and was the third of his parents four sons.
Survivors include his brothers, Paul D. (Nancy) Coffman and Harold L. (Cheryl) Coffman; sister-in-law, Linda Coffman; eight nephews and nieces and their children.
He was preceded in death by his parents; and oldest brother, Daniel E. Coffman.
Wayne graduated from Tiffin Columbian High School in 1962 and from broadcast engineering school in Washington, D.C. with an FCC 1st class radio engineering license. He worked for a telephone company in Medina before returning to Tiffin to work for his father at Tiffin Automatic Music, a company he later owned and ran. Following the sale of his company, he worked for Point Games then Lorain Music servicing coin operated music and game machines in a five county area.
Well known around the country as an antique auto collector and restorer, he was often called for information to help other antique collectors. In addition to many National car tours, Wayne could often be seen driving one of his cars around tiffin and in various parades in the area.
He was a member of the following: Pioneer Auto Club, Brass and Gas, REO Club, Franklin Club, Pullman Club, White, Vintage Chevy Club, 1 & 2 Cylinder Tours, AACA, Horseless Carriage, VMCCA, and was regular on the Glidden Tour and for 42 years proudly served on the Bascom Fire Department and housed an engine on the west side of Tiffin to better respond to calls just outside of the city limits.
His funeral service will be private and burial will be at St. Jacobs Cemetery, Republic.
His visitation will be from 5-8:00 P.M. on Thursday, July 30, 2020 at Hoffmann-Gottfried-Mack Funeral Home & Crematory, 236 S. Washington St., Tiffin, Ohio 44883, (419) 447-2424.
In lieu of flowers, memorial contributions may be made to The Pioneer Auto Club, c/o Sally Stanbery, 15545 SR 67, Upper Sandusky, Ohio 43351 in Wayne's honor.
Condolences may be sent and the guestbook signed at www.hgmackfuneralhome.com.
Note: During our 50th Reunion, Wayne introduced us to his collection - CLICK HERE
https://www.tributearchive.com/obituaries/17619559/Wayne-A-Coffman