In Memory
Steve Drake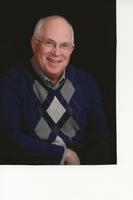 Steve Drake
April 14, 1944 - May 22, 2021
Steven C. Drake, aged 77, originally from Tiffin, Ohio died May 22, 2021 in Colorado Springs. He was diagnosed with Idiopathic Pulmonary Fibrous in January 2021. Drake's vision after his diagnosis was:
"To do all I can to live as good as I can for as long as I can." And he did!
Drake married his college sweetheart, Barbara Short, in 1966. Barbara was a lifelong teacher and educator.
Drake worked his way through the Ohio State University (1962-1968) while playing varsity hockey for the Buckeyes, earning a degree in Agricultural Economics and a master's degree in International Economics. He was a member of Alpha Zeta Fraternity.
His career included a reporter for the Associated Press, communications coordinator at Ohio State University, public relations director at Clarke University (Dubuque, Iowa), and public relations director at Albion College (Albion, Michigan), and executive vice president of the American Soybean Association (St. Louis, Missouri). He then founded and owned Drake and Company, an association management company that managed national membership associations for 19 years. After selling the company in 2011, Drake and his wife Barbara moved to Florida in 2013. In 2020 they moved to Colorado Springs to be closer to family.
During his award-winning career, Drake was an active volunteer including president of the Agricultural Relations Council, president of the Alpha Zeta Foundation, president of the AMC Institute, founder of the Fellowship of Christian Farmers International, served on the Ohio State University Alumni Board, and elder at St. Mark Presbyterian Church (Ballwin, MO). Drake was inducted into the ARC Hall of Fame and the Clarke University Athletic Hall of Fame. He received the Meritorious Service Award from the National Christmas Tree Association, the Distinguished Service Award from the Livestock Publications Council, and the Summit Award from the American Society of Association Executives.
Drake was preceded in death by his parents, Max and Marion Drake, in-laws, Donna and Gordon Short, and brother-in-law, Rick Short.
Drake is survived by his wife, Barbara, daughter, Michelle Drake Rahalewich and son-in-law, Joe Rahalewich of Colorado Springs and son, Michael Drake of Lewisville, Texas.
The family will have a private memorial.
In lieu of flowers, the Drake family requests those wishing to make a contribution in Steve's memory to please consider the CFAES Student Support Fund (316943) at The Ohio State University Foundation, PO Box 710811, Columbus, OH 43271 or visit give.osu.edu and search by fund number 316943.
Other Links:
Agrimarketing - In 2015, Steve was inducted into the Agricultural Public Relations Hall of Fame. The Agricultural Relations Council (ARC) began recognizing ag PR leaders about 10 years ago. There was little doubt Steve would be on that list in our early years. He was synonymous with excellence in ag PR and ag communications overall. He will be sorely missed in the ag communications business.