In Memory
Robert Dryfuse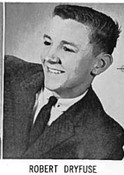 Obituary
Robert Lawrence "Bob" Dryfuse died Monday, August 30, 2010 in Tiffin, at the age of 66, after a long illness. Bob was born September 6, 1943 in Tiffin, at home, to Roy and Ida Shiley Dryfuse. Bob married Elizabeth Diane Turner on September 16, 1964, and she preceded him in death in 2007.
Bob was a 1962 graduate of Tiffin Columbian High School where he played football. Enlisting in the United States Navy in 1962, Bob proudly served as a damage controlman and carpenter on the U.S.S. Amphion, U.S.S. Hyades and U.S.S. Fairview until 1965. Bob was an executive for United Parcel Service until his retirement in 1995. After his retirement from UPS, Bob worked as a workers; compensation consultant for Travelers' Insurance at the Napoleon, Ohio, Campbell Soup facility. He spent his last several years in Tampa, FL., playing golf and enjoying his retirement.
Bob was preceded in death by his parents, Joseph Roy and Ida Dryfuse; his brothers, Adelbert Dryfuse, Paul Dryfuse, Victor (Jackie) Dryfuse, Edward (Donna) Carter and Martin Carter; and his sister, Mildred Dryfuse.
He is survived by his loving companion, Sandy Miller of Tiffin; his two children, Tobey Ruth McClurg of Maumee and Robert Corey (Corrie) Dryfuse of Toledo; his three grandchildren, Emma McClurg, Evan McClurg and Erika Dryfuse; two brothers, Fred (Martha) Carter of Tiffin and Richard (Shelby) Carter of Ocala, FL; his five sisters, Juanita (Gene) Roush of Portsmouth and Mary Lou (Howard) Frontz, Ida (Bryce) Biller, Trudi (Don) Brown, and Kathy (Wilbur) Miller, all of Tiffin; dozens of nieces, nephews and cousins; and many, many friends.