In Memory
Jane Eidt (Graham)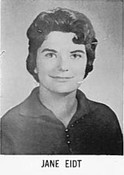 Jane Eidt Graham
May 6, 1944 - May 27, 2013
Jane E. Graham, Lt. Colonel., US Army, Ret., age 69, of Mesa, AZ. passed on peacefully on Monday, May 27, 2013.
She was born May 6, 1944 in Tiffin, Ohio. She was preceded in death by her husband, Richard J. Graham; her father, William D. Eidt, Sr.; her mother, Agatha M. Eidt; her brother, William D Eidt, Jr. Survived by her sister, Susan E. Hoard and her brother-in-law, Kenneth R. Graham.
Jane grew up in Tiffin, Ohio. She graduated from Monmouth College in Monmouth, Illinois, in 1966, where she earned a Regular Army commission, an honor from Army ROTC. During the Vietnam Era, she served as Logistics Officer in Thailand.
She earned a Master's degree from the University of Oklahoma. When Jane and her husband retired, Jane launched her second career as a tax accountant in her own tax consulting business in San Antonio, Texas. They relocated their home and her business to Mesa, AZ, in 1995. "Well done, good and faithful servant. The two of you are together again. Rest peacefully."

GRAVESIDE SERVICE
WITH FULL MILITARY HONORS
MONDAY
JUNE 3, 2013
10:15 A.M.
FORT SAM HOUSTON NATIONAL CEMETERY
SAN ANTONIO, TEXAS

CELEBRATION OF HER LIFE
SATURDAY
JUNE 29, 2013
10:00AM
LIVING FAITH ANGLICAN CHURCH
TEMPE, AZ

Gifts in lieu of flowers may be made to Living Faith Anglican Church at 1945 E. Guadalupe Road, Tempe, AZ. 85283.
You are invited to sign
The guestbook at www.porterloirng.com.
See Advertiser Tribune for Obituary.