In Memory
Ben Robert Jinks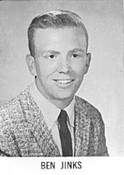 Obituary
Ben Robert Jinks, 64, of Houston Texas, passed away Friday, January 9, 2009 at VA Hospital in Houston. He was born January 14, 1944, in Fostoria to George S. and Irene Marie (Grafe) Jinks. He graduated in 1962 from Columbian High School and received his Master's Degree in special education from the Ohio State University. He taught in the Columbus Schools system and later moved to Houston where he retired from teaching. He served in the U.S. Army.
Ben is survived by his mother, Irene Coffman; a sister, Sandy (Pat) Bland of Tiffin; a broither-in-law, Tom Bacome of Columbus Grove; and many nieces, nephews, grand-nieces and grand nephews.
He was preceded in death by his father; a sister, Anna May Bacome; and stepfather, George Coffman.