In Memory
Phylis Myers (Cook) VIEW PROFILE
Phyllis D. (Myers) Cook
November 9, 1943 - July 21, 1962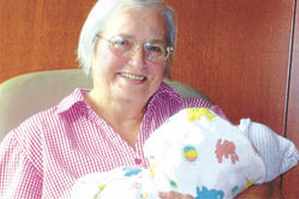 Phyllis D. Cook, 68, of Fostoria, died at 10:55 p.m., Thursday, May 31, 2012, in the emergency room of Fostoria Community Hospital.
She was born Nov. 9, 1943, in Fostoria, to Lester and Etta (Prenzlin) Myers. She married John J. Cook July 21, 1962, and he died June 1, 1998.
Surviving are one son, Thomas E. Cook of rural Sycamore; two granddaughters, Brandy L. Cook of Fostoria and Brittany M. Cook of rural Sycamore; two great- grandchildren, Brody A. Lang and C.J. Cook; six brothers and three sisters, Raymond Myers of Tiffin, Robert (Peggy) Myers of Aurora, Donald (Kathy) Myers of Perrysburg, Dennis Myers of Tiffin, Richard Myers of Tiffin, James (Beverly) Myers of Clyde, Doris Ruhlen of Tiffin, Joan (Raymond) Burris of Boliver, and Loretta Robinson-Myers of East Lake, Colo.
She was preceded in death by two brothers, Milan Myers and David Myers, in addition to her parents and husband.
Phyllis was retired from the former RCA Plant in Findlay, where she worked for 35 years. She also was a cashier at the former Pharm store in Tiffin. She was a 1962 graduate of Columbian High School. She loved to listen to Vince Gill and Loretta Lynn music, and loved her granddaughters and great-grandchildren.
The funeral for Phyllis is 11 a.m., Tuesday, June 5, at the Walton-Moore Funeral Home, Sycamore, with the Rev. Paul Bennett officiating. Burial will take place at Pleasant View Cemetery, Sycamore.
Visitation is 5-8 p.m., Monday, June 4, at the funeral home.
Memorial contributions may be made to the family in care of Walton-Moore Funeral Home, P.O. Box 350, Sycamore, OH 44882.
Click here to see Phylis' last Profile entry.