In Memory
Joanne Sherman (Bish)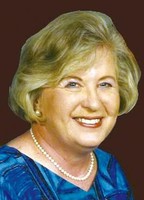 Joanne Sherman Bish
September 19, 1944 - April 7, 2013
Joanne Bish, 68, of Coshocton, passed away at The Ohio State University Medical Center Sunday, April 7, 2013, after a sudden stroke.
Joanne was born in Tiffin Sept. 19, 1944, to the late William "Bill" and Kathryn (Miller) Sherman.
She graduated from Columbian High School in 1962 and attended Tiffin University. Joanne had worked for Pretty Products in Coshocton, sold insurance for Western and Southern Life and owned and operated the Open Window shop on Main Street in Coshocton for many years. She was also a member of the Presbyterian Church of Coshocton.
Joanne is survived by her husband, Robert L. "Bob" Bish, whom she married Sept. 30, 1967; two sons, Jim (Beth) Bish of Bluffton and Michael (Cindy) Bish of Reynoldsburg; five grandchildren, Emily and Lauren Bish, Ian Cameron and Caitlyn and Aubrey Bish; two sisters, Carol (Terry) Lovelady of Dallas and Pam (Jim) Woznicki of Perrysburg; one brother, Bill (Deb) Sherman of Tiffin; and several nieces and nephews.
Along with her parents, Joanne was preceded in death by her grandson, Sam Bish.
Friends may call at The Miller Funeral Home, 639 Main St., Coshocton, 4-7 p.m. Thursday, April 11, 2013, and one hour prior the service Friday. Her funeral will be 10 a.m. Friday at the funeral home with the Rev. Jonathan T. Carlisle officiating. Interment will follow at 3 p.m. in Pleasant Ridge United Methodist Cemetery, Tiffin.
Memorial contributions may be directed to the Sam Bish Foundation, providing support for pediatric cancer families. Envelopes will be available at the funeral home. An online memorial is located atwww.themillerfuneralhome.com.