In Memory
Paul Swander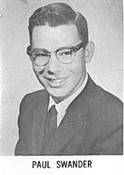 Obituary
Paul R. Swander, 62, of Schau Rd., Port Clinton, Ohio died at 9:50 p.m., Wednesday, February, 8, 2006 at Riverview Nursing Home, Oak Harbor, Ohio. He was born February 7, 1944 in Tiffin, Ohio to Charles and Doris (Laux) Swander. His mother survives in Tiffin. On May 28, 1966 in Fort Seneca, Ohio he married Judy Hade and she survives in Port Clinton.
Other survivors include two sons, Kevin (Courtney) Swander of Port Clinton, Ohio and Scott Swander of Tiffin, Ohio; four grandchildren, Jackie and Stephen Swander, Kasey and Caden Swander and a brother, Delmar Swander of Maumee.
He is preceded in death by his father, Charles and a brother, Glenn Swander.
Mr. Swander was a 1962 Columbian High School Graduate. He served in the United States Army Reserves, and served active duty during Operation Desert Storm. He retired as a Civil Service Employee and a Chief Warrant Officer Grade 3 in the United State Army Reserves. He was a member of the First Lutheran Church, Tiffin; the American Legion, Post 114, Oak Harbor; The VFW 2858, Tiffin; and Moose 1610 of Port Clinton, Ohio.
Visitation will be on Sunday, February 12, 2006 from 2-4 and 6-8 p.m. at Traunero Funeral Home, 214 S Monroe Street, Tiffin, Ohio 44883, (419) 447-3113. The Funeral Service will be officiated by Rev. Richard Hofmann on Monday, February 13, 2006 at 10:00 a.m., at Traunero Funeral Home. Burial will take place in Greenlawn Cemetery, Tiffin with military rites conducted by the United Veterans Council of Seneca County.