In Memory
Sonny Turner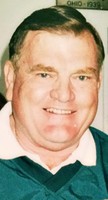 Seldon 'Sonny' Dailey Turner
1943 - 2017
Seldon Turner, 74, passed away peacefully Thursday, Nov. 2, 2017, at Mercy Health – Tiffin Hospital, after years of a courageous battle.
In 1968, Sonny married Tish Daubel. They had two children, Michelle and Scot. They divorced. He married Penny Smith Blount in 1991.
He is survived by his wife; two children, Michelle (John) Turner-Lane and Scot Turner with Brooke Faris; two stepchildren, Charles Blount with Lori Murphy and Chaille Blount with Darrell Isham; granddaughter, Cassidy Turner; stepgrandson, Tanis Blount; three siblings, Nellie Alsip, John (Karen) Turner and Ruth (Dick) Steven; and many nieces, nephews and friends (to whom he always gave nicknames).
Sonny and his special kind of sunshine will be sorely missed by all.
Sonny was a lifelong Tiffin resident. From 1980 to 1984, he served as a Seneca County commissioner. He spent over 25 years as an account representative for the Ohio Bureau of Employment Services and retired in 2012. He was a life-member of the Elks (BPOE No. 94). He took pride in having memorized the words for every chair he occupied on his steps to becoming the Exalted Ruler in 1998. He was also a member of the AMVETS and an avid OSU Buckeyes fan.
Sonny was predeceased by his brother-in-law, Blair Alsip; brother and sister-in-law, Robin and Joyce; and his sister and brother-in-law, Susie and Pete Moore.
Sonny's family will receive friends 1-3 p.m. Saturday, Dec. 9, 2017, at an informal celebration of life at Engle-Shook Funeral Home and Crematory, 135 N. Washington St., Tiffin.
In lieu of flowers, memorial contributions may be made to the Humane Society of Seneca County, 2811 OH-100, Tiffin, OH 44883. (Note: there also is a web page for donations - https://www.humanesocietysenecacounty.org/make-a-donation)
The family extends their deep appreciation and thanks to Dr. Mark Burket, Dr. John Bremyer, Dr. Steve Bruhl, Dr. J. Michael Felton, Dr. Andrew Gase, the EMT squads, the staff at DaVita Dialysis and that of St. Francis Home, for their care and compassion.
http://www.advertiser-tribune.com/obituaries/2017/11/seldon-turner/