In Memory
Dan Waters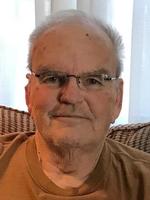 William Dan Waters
5/22/1942 - 12/29/2019
William Dan Waters, 76, of Tiffin, passed away Sunday, Dec. 29, 2019, in the emergency room at Mercy Health – Tiffin Hospital.
Dan was born May 22, 1943, in Smithtown, Kentucky, to Robert and Eva (Bowman) Waters. He first married Kathleen Kerkhoff of Tiffin, and they later divorced. Then Dan married Sharon (Shuff-Fawcett) in Tiffin July 7, 1978, and she survives in Tiffin.
Survivors include his children, Christine (Craig) Pattee of Key West, Florida, Bruce (Margie) Waters of Tiffin, Jason Fawcett of Tiffin and Matthew (Heidi) Fawcett of Phoenix, Arizona; five grandchildren, Dustin (Shelby Kent) Waters of Tiffin, Kylee and Taylor Fawcett of Phoenix and Jenna and Jorie Fawcett both of Tiffin, one great-granddaughter due in February; a brother, Fred Waters of Fostoria; and his dog "Munson".
He was preceded in death by his parents; two brothers, Allan and Montie Waters; and his a step-father, Orlo Kuhn.
Dan was a 1962 graduate of Tiffin Columbian High School where he was a loyal Tornado.
Dan started working at American Standard in 1962 until 1968 then he went to American Electric Power where he worked as a lineman and then retired after 36 years. His passion was coaching little league baseball at Oakley Park. He also was a baseball umpire and a basketball official. Dan enjoyed horse racing, shooting pool, was an avid reader of western novels and also enjoyed listening to Bob Seger music.
Visitation for family and friends will be 10:30-11:30 a.m. Thursday, Jan. 2, 2020, Engle-Shook Funeral Home & Crematory in Tiffin.
A memorial service for Dan at 11:30 a.m. Thursday, at the funeral home. There will be no burial at this time.
The family would like to give special thanks to Dr. Steven Bruhl and Dr. James Bosse, Karen, Ashley, Judy, Mary, Jo, Kristi, Lacey, all of Mercy Cancer Center in Tiffin, Pam, Kathy, Amanda, Traci and Marla of Mercy Cardio Therapy for the wonderful care given to Dan over the last few years.
Memorial contributions may be made to Seneca County Humane Society, F.A.C.T. or Mercy Hospital Cardio Therapy.
Online condolences may be left for the family at www.engleshookfuneralhome.com.
https://www.advertiser-tribune.com/obituaries/2019/12/william-dan-waters/