In Memory
Diane Turner (Dryfuse)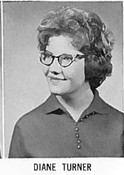 Obituary
E. Diane Dryfuse, 63, formerly of Tiffin, recently of Maumee, passed away Tuesday, Nov. 6, 2007, at her home in Maumee. She was born March 30, 1944 in Akron, to Dailey R. and Ruth Ellen (Lynch) Turner. She was a 1962 graduate of Columbian High School. She attended Wittenberg University and later graduated with honors from the University of Toledo. Diane worked at various times as a real estate agent and a paralegal.
Diane married Robert L. "Bob" Dryfuse, Sept. 16, 1964. Their marriage produced two children, Robert Corey Dryfuse of Toledo and Tobey Ruth Dryfuse McClurg of Maumee. Diane loved sports, especially college football. Her children fondly remember the many, many practices and games she drove them to while they were in school. No matter how bad the weather or how ill she was, Diane never missed an event if her children were involved. Diane also loved reading (especially history and mysteries), as well as gardening and planting flowers. She was known for her green thumb and her love of house plants. Diane also enjoyed breeding and showing papillon dogs.
Diane deeply loved (and loved to spoil) her three grandchildren, Emma Aislinn Elizabeth McClurg, Evan Dailey Robert McClurg and Erika Elizabeth Dryfuse. She always had time and was never too busy to sit and listen to her children and grandchildren.
Diane was preceded in death by her two parents. She is survived by her husband, her two children, her three grandchildren, her sisters, Robyn (Greg) Parker and Jeanine Park, both of Perrysburg; as well as many nieces, nephews and many cousins. See <http://www.advertiser-tribune.com/page/content.detail/id/501312/E--Diane-Dryfuse.html?nav=5011>