In Memory
Ray Pittman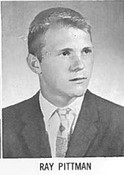 Ray Gene Pittman
February 28, 1944 - April 12, 1993
Ray Gene Pittman, 49, of Charlevoix, MI, died in Northern Michigan Hospital, Petosky, Monday, April 12, 1993.
He was born in Clay City, IL, February 28, 1944 to Ray O. and Jean (Magness) Pittman. His mother and stepfather, Mr. and Mrs. Rex Fair , survive in Charlevoix.
Also surviving are three daughters, Jennifer Mae Pittman of Warren, MI, Kelly Gene Pittman of Hazel Park, MI. and Mrs. Ian (Sabrina) Ida of Alpena, MI; three grandchildren; and two brothers, Roy Pittman of Centerville, PA and Rodney Pittman of Charlevoix.
A grandchild, Gene Pittman, is deceased.
Mr. Pittman, a 1962 graduate of Columbian High School, was a self-employed well driller. A member of the Eagles Aeries 2462, Petosky, he was raised in Tiffin and made his home between Charlevoix and Warren, PA.
Advertiser Tribune. April 14, 1993.