In Memory
Colonel Fred E. Kishler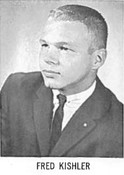 TRIBUTE TO COL. FRED E. KISHLER, JR.
(Senate - March 25, 1996)
[Page: S2833]
Mr. GLENN. Mr. President, I rise to pay tribute to Col. Fred E. Kishler, Jr., who died this past January. From August 1994 until his death, Colonel Kishler served as the Director of the General Defense Intelligence Program [GDIP] Staff where he served with great distinction.
Colonel Kishler was a fellow Buckeye--born in Tiffin, OH, and receiving his undergraduate degree at Heidelberg College in Tiffin. In his lengthy and distinguished Air Force career, Colonel Kishler flew dangerous, sensitive missions in the U-2 spy plane and other aircraft, and was responsible for fielding numerous tactical and strategic intelligence systems. His greatest love as a pilot was flying the U-2, spending approximately 15 years in the U-2 program. Colonel Kishler accumulated over 4,800 flying hours--over 2,000 of those hours were spent in the cockpit of a U-2, and he flew 106 combat missions in Southeast Asia. During the Vietnam War, he demonstrated his courage as a flight leader for search and rescue missions, and he supported the Son Tay POW raid.
In 1991, Colonel Kishler came to work for the Defense Intelligence Agency, first serving as the Chief of the Reconnaissance Division for Functional Management. His hard work and effectiveness led to other positions as the Associate Deputy Director of the Programs and Evaluation Division of the National Military Intelligence Collection Center, and ultimately as the Director of the General Defense Intelligence Program Staff--particularly challenging assignments in a period of declining resources where we have had to do more with less. Colonel Kishler's honesty, integrity, and professionalism gained the respect of Congress as well as the Department of Defense.
Among Fred's many decorations and awards were the Distinguished Flying Cross, a Meritorious Service Medal, the Air Medal with thirteen oak leaf clusters, and the Air Force Commendation medal.
Mr. President, I join all of my colleagues on the Senate Select Committee on Intelligence in paying tribute to the memory of Col. Fred E. Kishler, Jr., and pass along our deepest sympathies to Colonel Kishler's mother and father--Fred and Marjorie Kishler; his wife, Susan; and their sons, Mark and Fred. Fred Kishler was a credit to the Air Force and the United States of America, and he will be sorely missed.
---
Steve Wilcoxson provided this picture of Fred with the pilots of his squad in Viet Nam in front of an A1 Douglas Skyraider. Of which, steve says "It was a great aircraft for ground support carrying about 8000 lbs. of bombs and rockets."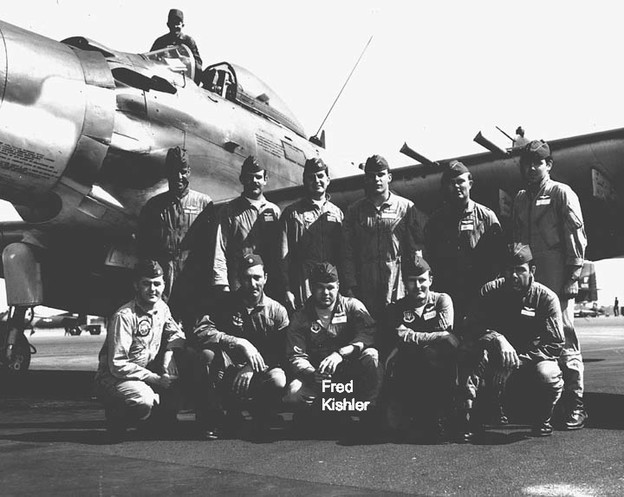 ---
Col. Fred Kishler also was a recipient of the Kelly Johnson Trophy:
In 1981, the U.S. Air Force created the "Kelly Johnson Blackbird Achievement Trophy". It is a lifetime achievement award presented to an individual who has significantly contributed to the Blackbird Program. The winner of the award will have gone above and beyond what was required in the performance of duties to perpetuate, foster and improve the Blackbird Program over many years. Mr. C. L. "Kelly" Johnson graciously allowed the trophy to be named in his honor. <http://members.habu.org/backissues/2003.html#awards>
---
---