In Memory
Pamela Payne (Robinson)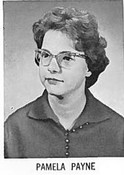 Obituary for Pamela (Payne) Robinson
August 28, 1944 - January 15, 2002
---
Pamela E. Robinson, 57, of 4010 N. Twp Rd 1098, Tiffin, died at 11.26 p.m. Tuesday, Jan. 15, 2002, at St. Vincent Medical center. She was born Aug. 28, 1944 to George T. and Mary Lois (Humphries) Payne. On Feb. 11, 1969 she married Duane Robinson and he survives.
Other survivors include two sons, Bruce E. Robinson of Columbus and William L. Robinson of Steamboat Spring, CO.; a sister, Mrs. Vickie Graham of Tiffin; and three grandchildren.
The funeral services will be at 10:30 a.m. Saturday, Jan. 19, 2002 at Shiloh United Methodist Church.
Click HERE for obituary for Pamela (Payne) Robinson.
---