In Memory
Donald Spencer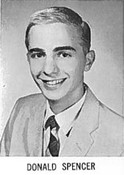 Obituary for Donald Spencer
May 13, 1944 - June 3, 1978
---
Lt. Commander Donald A. Spencer, 34, whose parents live at 105 Glenn St., died unexpectedly at 3 p.m. Saturday, June 3, 1978, at Bethesda Naval Hospital, Md.
A native of Findlay, he was born May 13, 1944, to Donald F. and Arvella (Buck) Spencer. On Dec. 31, 1965, he married Jennifer Garrett in Columbus and she survives.
Also surviving are his parents; two children Donald Eric and Kimberly Ann, both of San Diego, Calif; a brother Kenneth Spencer of Bloomington, Ind.; and two sisters, Mrs. Tom (Susan) Sevitz of Lima and Mrs. Joan Aiello of Toledo.
Lt. Commander Spencer was a doctor in the U.S. Navy. He graduated from Columbian High School in 1962, from Ohio State University Medical School in 1970.
The Rev. James Bloom conducted a memorial service at 11 a.m. today in Washington Street United Methodist Church. The body will be cremated.
The Hoffmann Memorial was in charge of arrangements.
Click HERE for link to Donald Spencer's Obituary from The Advertiser Tribune.
---