In Memory
Fred Pennycuff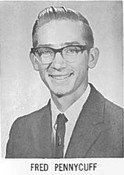 Obituary for Fred Pennycuff
3/1/1944 - May 19, 1981
---
Frederick David Pennycuff, 37, 21 Bobb St., died at 2:30 p.m. Tuesday, May 19, 1981, where he had been a patient since May 17.
A native of Cincinnati, he was born March 1, 1944, to Robert Lee and Zella (David) Pennycuff. His father is deceased, but his mother lives at 11 Bobb St. On Jan 3, 1977, he married Mollie Sue Brock in Tiffin and she survives.
Also surviving are four children: Mark Anthony and Jaime Lynn, both at home, Jerry David and Gary David, both of Tiffin; five brothers, William, Jeff and Robert Lee Jr., all of Tiffin, Lewis of Sidney and Tim at home; and sisters, Carolyn Chaney of Fort Seneca, Shirley Young, Deb Brock, Sheila Reinbolt and Michelle Pennycuff, all of Tiffin. A brother, Kevin, died earlier this year.
A member of Grace Missionary Baptist Church, he was an expediter in the office at Clyde Whirlpool Corp. He graduated in 1962 from Columbian High School and from Terra Technical College. He was a veteran of the Vietnam War.
Rev. Calvin Perry will conduct services at 2 p.m. Friday at the Turner-Engle Funeral Home. Burial will be in Fairmont Cemetery.
Visitation at the funeral home will be from 2-4 and 7-9 p.m. Thursday.
Click HERE for Obituary for Fred Pennycuff from The Advertiser Tribune.
---