In Memory
Cindy Olds (White)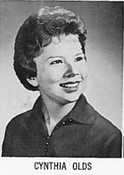 Cynthia (Olds) White
January 20, 1944 - September 4, 2000
Cynthia (Olds) White, 56, of 440 Circleview Drive North, Hurst, TX, a former Tiffin resident died Saturday, September 4, 2000, at her home after an illness of one and a half years.
She was born January 20, 1944, in Tiffin, to the late Robert and Doris (McClelland) Olds, who died in 1999. On April 11, 1992 she married James McMeans, who survives.
Survivors also include: a son, Robert O. Godsey of Palm Springs, CA; two step-sons, Jay McMeans of Dallas and Stuart McMeans of Philadelphia, PA; two sisters, Linda Maloy of Galion and Mrs. Brad (Stacey) Hufford of Tiffin; a special friend; and two godchildren.
She also was preceded in death by a daughter, Melissa Godsey in 1989.
Mrs. White worked as a systems analyst for the Children's Medical Center in Dallas.
A 1962 graduate of Columbian High School, she was a member of Lovers Lane United Methodist Church, Hurst; and served as a volunteer for Warmplace in Fort Worth, TX.
Advertiser Tribune. September 5, 2000.