In Memory
Klahr Shellhouse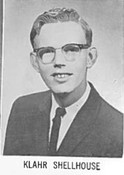 Obituary of Klahr Shellhouse
Klahr L. "Red" Shellhouse, 61, of Fostoria, died Saturday morning, Sept. 25, 2004 at Fostoria Community Hospital.
A native of Tiffin, he was born July 3, 1943 to Kenneth and Vera (Heyman) Shellhouse. On Oct. 3, 1964, he married Lorraine J. Wright in Youngstown and she survives in Fostoria.
Other survivors include: his mother, Vera Berry, Tiffin; two daughters, Mrs.
Chip (Jennifer) Pastorek, Toledo; Mrs. Jim (Kristy) Pothast, Tiffin; one granddaughter, Lara Jade Pothast; and one sister, Mrs. Gene (Judi) Kirby, Upper Sandusky.
His father and one brother, Kenneth Shellhouse, preceded him in death.
A 1962 graduate of Tiffin Columbian High School, Red had been employed since 1965 at Atlas (TK Atlas) in Fostoria. He was a member of Moose Lodge #1567, Fostoria, and the Aeraland Park Committee, a volunteer group that maintained the park.
Red was an easy-going, fun-loving, and giving individual who had a great sense of humor. He was an avid golfer, bowler, and fan of the Ohio State Buckeyes, and liked playing cards, mainly euchre. He found his greatest enjoyment in spending time with his loving family, especially his pride and joy, granddaughter Lara.
Funeral services will be 10:30 a.m., Wednesday at Mann-Hare Funeral Home, Fostoria, with the Rev. Dr. Larry Knigga presiding. Committal services and burial will follow in Fountain Cemetery, Fostoria.
The family will receive friends on Tuesday from 2 to 4 and 7 to 9 p.m. in the funeral home.
Memorials are suggested to the United Way of Fostoria.
www.fostoria.org/CalBits/Obituaries/archive/2004/s_t.html#33