In Memory
Virginia Correll (Poignon)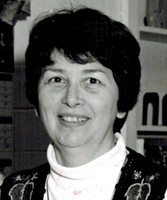 Virginia (Correll) Poignon
May 4, 1944 - December 23, 2016
Virginia M. "Ginny" Poignon, 72, of Tiffin, passed away Friday morning, Dec. 23, 2016, at Mercy Health – St. Vincent Medical Center.
She was born in Tiffin May 4, 1944, to John and Gail (Hollar) Correll, and married Joseph E. Poignon Jan. 30, 1965.
Survivors include her mother, Gail Correll, of Tiffin; husband of 51 years, Joseph; daughter and son-in-law, Drs. Lora and Clay Wolph of Fostoria; grandson, Logan Wolph, and granddaughter, Ashtyn Wolph, both of Fostoria; brother, Edward (Jean) Correll of Tiffin; and sister, Sandra (James) Zoeller of Tiffin.
She was preceded in death by her father, John Correll, and an infant son, Gregory Poignon.
Virginia was baptized at First Christian Church, Disciples of Christ, graduated from Heidelberg College in 1966 and later from Bowling Green State University with a master's degree in education. In 1967, she began teaching German in Bloomville Schools and Tiffin City Schools for a year. In 1970, she started teaching at Hopewell-Loudon Schools, teaching German, Spanish and speed reading. She was a leader of the Hopewell-Loudon Quiz Bowl, librarian and media specialist, retiring in 1998 after 31 years. She continued working within the school system long after her retirement by providing placement testing for students in the local area. Ginny was awarded the Martha Holding Jennings Foundation Educational Award and was a member of the Delta Kappa Gamma Sorority.
Ginny was generous and had a gift for giving to others in need, volunteering and providing food at the Ecumenical Sharing Kitchen and Area Agency on Aging, district five representatives. She enjoyed baking cookies with her grandchildren, camping, shopping, gardening, reading, dog sitting and, most of all, spending time with her family — especially her grandchildren. She was a caring aunt to many nieces and nephews. She cared for her 92-year-old mother at St. Francis Home. She enjoyed planting flower gardens, and vacationing/walking the beach with her husband, Joe, and friends and family in Myrtle Beach and Florida. She was a member of Tiffin Moose and enjoyed time there with friends. She will be missed by so many people — not just her only daughter, but so many who called her "mom."
Her funeral service will be at 10 a.m. Wednesday, Dec. 28, 2016, at First Christian Church, Disciples of Christ, with the Rev. Doug DeVos officiating.
Friends may visit and share stories with the family 2-7 p.m. Tuesday, Dec. 27, 2016, at Hoffmann-Gottfried-Mack Funeral Home & Crematory, 236 S. Washington St., Tiffin, OH, 44883, (419) 447-2424.
Memorial contributions may be made to First Christian Church, Disciples of Christ, The Salvation Army or to St. Paul's Ecumenical Sharing Kitchen.
Condolences may be sent and the guestbook signed at www.hgmackfuneralhome.com.