In Memory
James Sherwood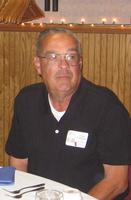 James Allen Sherwood
August 19, 1944 - April 21, 2020
James Allen "Jim" Sherwood, 75, of Findlay and formerly of Tiffin, passed away Monday, April 21, 2020 in the Emergency Room at the Blanchard Valley Hospital in Findlay.
Jim was born on August 19, 1944, in Tiffin, to the late Leon and Martha (Lee) Sherwood. He married Nancy (Leaver) in Tiffin on July 28, 1985 and she survives in Findlay.
Other survivors include his three daughters, Michelle Thomas of Sterling Heights, MI, Andrea Sherwood of Ypsilanti, MI, Kerry Jo Sherwood of Toledo, seven grandchildren, Marley, Kaelyn, Connor, Ryan, Alyssa, Andrew, Alexander, a great-grandson, Roman, three brothers, Robert L. (Nancy) Sherwood of East Falmouth, MA, George L. Sherwood of Tiffin, William D. (Gail) Sherwood of Fostoria, three sisters, Rachel L. (Larry) Rentz of Tiffin, Rebecca L. (Floyd) of Tiffin and Mary K. Sherwood.
Jim retired from the AAR Corporation in Cadillac, MI and also spent 24 years in the United States Marine Corps serving during Vietnam where he received his Purple Heart. He was a 1962 graduate of Tiffin Columbian High School. Jim was involved with the Marine Corps League, worked with Toys for Tots and was an avid golfer. Most of all James just enjoyed spending time with his grandchildren and great-grandson who all called him "Papunk".
There will be a private family visitation held for Jim at the Engle-Shook Funeral Home & Crematory in Tiffin. There will be a Celebration of Life held at a later date.
Memorial contributions may be made to the charity of the donor's choice.
https://www.engleshookfuneralhome.com/obituary/james-sherwood