In Memory
Jane Wade (Humphrey)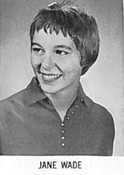 Jane Wade Humphrey
1944 - 2012
Jane Wade Humphrey, 68, of London, England, and Norfolk, Va., went home to be with her Lord Saturday, Aug. 18, 2012. (Note: a friend of Jane's, Diane Livingston Seltzer, posted on Facebook, Jane suffered a major heart attack while having her back surgery, and passed away early this morning! I am sure you are in shock just as we were when we heard the news!)
A native of Tiffin, Jane was the third child of the late Joseph and Isabelle Wade and much-loved stepdaughter of Edmund Garcia. She received undergraduate and master's degrees from Old Dominion University, which led to her lifelong commitment to helping children who struggled to read and learn. Through a rewarding career, she served as a reading specialist with Norfolk Public Schools and a teacher at Vienna Christian School, Austria.
Jane, a natural-born evangelist, served the past 15 years as a missionary in London, England, where she was quick to share her love for her Lord and to inspire others with her steadfast faith. She loved people and loved serving them, whatever their needs. Her adventurous spirit gave her the courage to reach beyond her comfort zone to attend Capernwray Bible College, England, to teach at Vienna Christian School, Austria, and then to return to England as a missionary. Her special heart service was to assist and befriend internationals in London; she had "brothers and sisters" all over the world who stayed in touch with their mentor over the years.
Jane had a natural affinity for decorating, and many homes in Norfolk benefited from her talent. She enjoyed playing tennis and was an avid skier, and like her beloved stepfather, she was drawn to piano music.
She is survived by three children, Mary Nierenhausen of Cold Spring Minn., William Humphrey of Honolulu, Hawaii, and Doug Humphrey of Atlanta, Ga.; six siblings, Anne Anderson of Ocean Park, Wash., Sara (Jim) Drake of Fairfield Glade, Tenn., Joan (Don) Smith of Westerville, Lisa (BJ) Chandler of Fort Walton Beach, Fla., Michael (Susan) Wade of Tiffin and Peter (Susan) Wade of Pine Mountain, Ga.; one stepbrother, Richard (Connie) Garcia of Bellaire, Mich.; one stepsister, Anita (Phillip) Love of Indianapolis; three grandchildren, Phillip, Mandi and Melissa Jane Nierenhausen; and a number of nieces and nephews.
In addition to her parents, she was predeceased by her grandson, Patrick Nierenhausen.
Her funeral will be 11 a.m. Wednesday, Aug. 22, 2012, at Tabernacle Church of Norfolk.
The family will receive friends at a visitation 5-7 p.m. today at the Norfolk Chapel of H.D. Oliver Funeral Apts., 1501 Colonial Ave., Norfolk, Va.
In lieu of flowers, memorial contributions may be made to Tabernacle Church of Norfolk, 7000 Granby St., Norfolk VA 23505 or to United World Mission, P.O. Box 6002002, Charlotte NC 28260-2002 (
www.uwm.org
).